Deviled Eggs for Easter : Decorated and edible appetizer idea, fun and funky eats
Deviled Eggs (sometimes called Stuffed Eggs) are the perfect eggs for serving at an Easter party or family gathering because – well – they are eggs (and who doesn't associate eggs with Easter, just think of all those fun Easter egg hunts you remember over the years or put together for your kids!).
Deviled Eggs make good use of hard-boiled eggs and can easily be decorated into an Easter theme. I like to decorate mine as cute bunnies and chicks, and keep them totally edible by decorating them with fresh herbs and veggies, even some meat and cheese. I like to use flavors that taste good with the eggs so the eater can eat an egg without necessarily having to remove the toppings. Here's some ideas for toppings you can use to create your own savory chicks and bunny rabbit deviled eggs.
Edible Ideas for making decorated Chick Deviled Eggs
For Eyes : you can use Black Olives, Gherkins, Pickles, Bacon, Radish
For the Beak : cut triangles of Cheddar Cheese or Carrot (stick on flat or use two triangles to form small beak)
For Hair : fresh Dill, grated Cheese, a dab of Relish
Edible Ideas for making decorated Bunny Deviled Eggs
For Eyes : you can use Black Olives, Gherkins, Pickles, Bacon, Radish
For Noses : Diced Pimientos (from jar), Bacon, sliced Ham, Radish (keep that nose pink, ya think?!)
For Whiskers : cut Chives, shredded or grated Carrot, fresh Dill
For Ears : Carrot, Radish, Bacon, sliced Ham pieces
These are just ideas, of course – get creative with food and come up with something cute! Cut your vegetables that you are using into shapes to simulate eyes, noses, ears, and beaks. So, for example, you can cut an Olive into little round eyes, grate pieces of carrot into shapes like bunny ears – or use kitchen scissors to cut ham pieces into some fun and floppy bunny-shaped ears (Radishes make for cute pink ears too). Your kids will enjoy helping to decorate these.
Here is my own basic and simple Devilled Egg recipe that you can use to create your Easter egg appetizers (or you can use your own favorite recipe):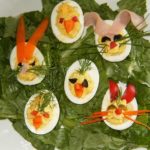 Easter Themed Deviled Eggs
Decorate these yummy eggs into cute Chicks and Bunnies, perfect as an Easter party appetizer.
Ingredients
6

hard-boiled Eggs

(see Recipe Notes below for easy way to hard boil eggs)

2

tablespoons

Mayonnaise

1

teaspoon

Sugar

1

teaspoon

Apple Cider Vinegar

1

teaspoon

Yellow Mustard

1/4

teaspoon

Kosher Salt

1/8

teaspoon

Paprika

Your choice of assorted Vegetables, Herbs, Meats, and Cheeses

(for decorating into Easter Chicks and Bunnies)
Instructions
Peel shells off hard-boiled eggs. Carefully cut each egg lengthwise down the middle.


Scoop out yolks from all egg halves and place yolks into small mixing bowl. Put egg white halves in single layer on flat plate, deviled egg dish (or whatever you are using to serve the eggs on).

Add the Mayonnaise, Sugar, Vinegar, Mustard, Salt, and Paprika into the mixing bowl with the egg yolks. Mash the ingredients together with a fork.

Scoop a spoonful of the egg yolk mixture into each of the egg white halves, dividing evenly.

Decorate each egg into an Easter Bunny or Chick.
Recipe Notes
How to Hard-Boil Eggs -- Place your eggs in a saucepan and cover them with water by one-inch. Over high heat, bring the eggs to a boil and then boil for 8 minutes. Remove the pan from the heat and cool for 3 minutes (don't drain the water yet). Use the sink to gently run cold water over the eggs in the pan until they are cool. Now you can drain out the water and peel the eggs when they are cool enough to handle.
Decorating Tip : Clipped Chives make perfect Bunny whiskers.

Decorating Tip

: Ham slices can be cut into cute floppy Bunny ears.
Decorating Tip : Cut two small triangles to create a cute little beak for a Chick egg (just place one on top of the other, sticking out to form the beak).
Decorating Tip : A little clipped Dill makes fine feathery hair for your Chick.
Decorating Tip : Cut small rounds or ovals to make eyes out of Olives, Radishes, Bacon, Gherkins (really, anything that you can cut that will taste good with the flavor of the eggs).
Visit our Easter "Egg 'n Hat" Themed Party Page for a list of fun games and party ideas for Easter.
---