YummyEats.com own recipe for a make-ahead Baked Three-Cheese Burger on an English Muffin
Here is my own culinary creation for a baked cheeseburger – an original recipe I came up with for a triple-cheese burger that is assembled in layers, wrapped in foil and baked in the oven until deliciously hot and melted. This rather fun recipe can be created ahead of time, then baked later – perfect for serving at a get-together, social gathering or party with family and friends. A yummy treat for all you burger lovers everywhere!
This burger is put together in nine layers which includes a very simple homemade tomato sauce, three different cheeses, and some golden grilled onions – as can be seen in the image below. A brushing of an easy to make Garlic Butter on the top helps crisp up the top bun, while adding some extra flavor. The fact that this burger is baked rather than pan-fried or barbecued is why it is so great for making in advance.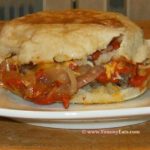 "Melty-Me" Three-Cheese Baked Cheeseburgers
Great for a do-ahead meal!
Servings
:
4
yummy cheeseburgers
Ingredients
1/2

pound

Ground Beef

Salt and Pepper to taste

3

tablespoons

Olive Oil, divided

1

medium

White Onion

1

teaspoon

Worcestershire Sauce

4

tablespoons

Tomato Paste

1

tablespoon

Yellow Mustard

1/2

cup

Pepper Jack Cheese, grated

1/2

cup

Sharp Cheddar Cheese, grated

1/4

cup

Parmesan Cheese, grated

4

English Muffins, sliced in halves

1

teaspoon

Sweet Relish

2

tablespoons

Butter

1

teaspoon

Garlic Powder
Instructions
Form four 2-inch balls of Ground Beef, rolling each ball between your palms (like a meatball). Place meatballs on plate, flatten each ball into about a 4-inch flat patty.

Season each patty top with salt and freshly ground pepper to taste (I like to season generously with the pepper). Turn patties and season bottoms with a little more salt and pepper (to taste). Press down center of each patty a bit with your thumb.

Heat 2 tablespoons Olive Oil in large skillet (I use cast-iron) over medium heat.

Slice the White Onion and grill the slices in the heated skillet until golden.

Remove the grilled onions to a bowl, using a slotted spoon.

Leave heat going and immediately place patties in skillet (where onions were cooked - don't clean pan). Put a couple of small dashes of Worcestershire Sauce (about ¼ teaspoon) on top of each patty. Turn patties at halfway point and complete cooking of meat to medium doneness. Remove patties to plate.

Make Tomato Sauce : in a small bowl, combine the Tomato Paste, 1 tablespoon Olive Oil, and Yellow Mustard. Blend well with a fork.

Grate a generous (heaping) ½ cup Pepper Jack cheese and ½ cup Sharp Cheddar Cheese. Grate generous ¼ cup Parmesan cheese. Set each cheese aside individually.

Assemble your burgers using the following steps.

----------------------------------------

FOR ONE BURGER, ASSEMBLE IN ORDER FROM BOTTOM TO TOP STARTING WITH:

1. 12-inch by 12-inch square of aluminum foil.

2. Bottom bun (bottom half of English Muffin).

3. 1/4 of the Parmesan Cheese (1 tablespoon each burger).

4. Patty.

5. 1/4 of the Tomato Sauce per burger.

6. 1/4 of the grilled onion per burger.

7. 1/4 of the shredded Pepper Jack Cheese (2 tablespoons each burger).

8. 1/4 of the shredded Cheddar Cheese (2 tablespoons each burger).

9. A heaping 1/4 teaspoon Sweet Relish, on top of the cheese in the center.

10. Top bun (top half of English Muffin).

11. Press burger together.

12. Wrap/fold the foil around each burger into a packet to seal the burger. NOTE: if you are planning to cook these burgers immediately after they are assembled, do the brushing with butter step (step #11 below) before sealing the packets.

----------------------------------------


When you are ready to bake and serve: heat the oven to 375 degrees.

Make a Garlic Butter : melt the 2 tablespoons Butter, then mix in Garlic Powder. Open packets and brush top of each burger with the Garlic Butter, then close packets to seal for baking.

Bake burgers for 15 to 20 minutes. Cheese should be melty.
Recipe Notes
Tip #1: You can make these hours ahead of time, then heat when you are ready to serve. Perfect for those busy days and occasions where you need things to be done in advance or want to get some cooking done ahead of time.
Tip #2: Make sure the beef patties are cooked completely to your liking during the pan cooking step #6 (in other words, meat patties should be well cooked to medium before assembling the cheeseburgers for baking).
Yummy! Enjoy!
---