Easy to make homemade Meatloaf that your family will love.
Here is a recipe that I often make for a decidedly yummy old-fashioned meatloaf, made from scratch using a meat blend of ground sirloin and Italian sausage, along with tomatoes, mushrooms and a surprisingly large amount of Dijon mustard – which really seems to flavor this loaf up. This is quite easy to prepare. Leftovers taste great and are good for a repeat dinner or slicing and using to make meatloaf sandwiches.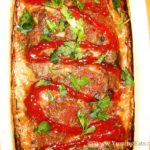 Classic Mom-Style Meat Loaf
Ingredients
1/4

pound

Mushrooms, sliced

(use a heaping/generous amount)

2

tablespoons

Butter

1

pound

Ground Beef Sirloin

(Ground Beef that is 90% lean meat / 10% fat)

1/2

pound

Mild Italian Sausage, casings removed

1

14.5 ounce can

Whole Tomatoes, drained and chopped

1/2

cup

White Onion, minced

1/4

cup

Worcestershire Sauce

1/4

cup

Dijon Mustard

2

large Eggs, well beaten

2

tablespoons

dried Oregano

1/2

teaspoon

Salt

1

teaspoon

freshly-ground Black Pepper

Ketchup

(for drizzle on top of meatloaf)

Flat-leaf (Italian) Parsley, chopped

(for decorative topping on cooked loaf)
Instructions
Preheat oven to 350 degrees F.

Heat butter over medium heat in a medium/large skillet until melted, then sauté the sliced mushrooms until they have given up their liquid and are becoming browned.

Put the cooked mushrooms, ground beef, Italian sausage, tomatoes, minced onion, Worcestershire sauce, mustard, eggs, dried oregano, salt and pepper in a large bowl. Mix ingredients together thoroughly, using your hands.

Pat down your meatloaf mixture into a 9-inch by 5-inch loaf pan. Make sure top is even.

Bake the meatloaf for 45 minutes, then drain off the excess fat. Drizzle the top with some ketchup, then bake for another 45 minutes (total baking time is 90 minutes).

Sprinkle a little chopped parsley over the top. Slice and serve.
Recipe Notes
Sliced Mushrooms:

I usually use a generous amount of these as they seem to normally be sold in an 8 ounce box (if you want the pre-sliced mushrooms). So if you like extra mushrooms, this recipe works great with more than the 1/4 pound.

Ketchup drizzle ideas:

You can drizzle a simple design across the top of your meat loaf, or get imaginative and make a smiley face, ketchup cross, tic tac toe, or spell out a word (like "YUM" perhaps).
Enjoy!
---