Beef Stroganoff – History of the Famous Russian Dish
The Stroganoff (or Stroganov) family reportedly made their fortune in 18th century Russia trading salt and furs, but nowadays the name is mainly associated with the popular beef dish which bears it. The dish probably goes back to much earlier peasant fare, but is now commonly attributed to the household of Count Pavel Stroganoff (1774-1817). Tolstoy's War and Peace paints a picture of a Russian society of that time which was fascinated with French culture and language. The interest in all things French extended to food, with chefs of the great households striving to create dishes in a more elegant and refined style. Beef Stroganoff probably came about as a result of this dynamic, though the first recorded appearance of the dish in a cookbook is from 1871. By the middle of the 20th century the dish had become popular fare in America, with variants such as Turkey- or Hamburger-Stroganoff making their way to tables across the land.
---
A Traditional Beef Stroganoff Recipe
This version is from Lynn Visson's The Complete Russian Cookbook and is credited to Victoria Martin. Enjoy for a classic dinner meal, Russian style (bring on the Vodka!).
Printable version of recipe
– – – – –
2 lbs. Sirloin, cut into thin strips
½ cup Flour
½ teaspoon Salt
Pepper
9 tablespoons Butter, divided
1 medium Onion, chopped
½ lb. Mushrooms, sliced
1 ½ cups Sour Cream, at room temperature
3 tablespoons Dijon-style Mustard (or less, depending on strength of mustard)
– – – – –
Combine flour, salt and a pinch of pepper. Dredge meat in the flour mixture and saute quickly in 6 tablespoons butter until well browned. Remove from heat. Fry onion in remaining butter for 2-3 minutes. Add mushrooms and continue to saute on medium-high heat until mushrooms are soft and liquid is thickened and reduced (about 6-8 minutes). Add to meat and simmer 5 minutes. Combine sour cream and mustard. Add to meat mixture and simmer on low for a few minutes until heated through and blended. Do not boil. Season to taste with salt and pepper. If sauce is too thick, thin with a few drops of milk. Serve at once over cooked noodles or rice.
---
Beef Stroganoff Becomes a Sandwich!
I found a vintage recipe from 1962 for a Beef Stroganoff Sandwich, based around the original classic recipe – basically the idea is switching up the meat served over noodles/rice to meat served on bread. Okay, cool. I decided to adapt and tweak this recipe for modern times and came up with something pretty tasty. The original recipe used water as the cooking liquid, but I thought Sherry would make the Stroganoff have a richer flavor – and it works well!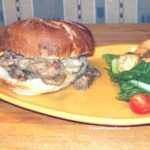 Hearty Beef Stroganoff Sandwiches
A delicious sandwich with the rich flavors of classic Russian Beef Stroganoff, served on a warm bun. I like this with a slice of tomato on the meat, under the bun top, for a little added juicy flavor.
Servings
:
4
hungry people
Ingredients
1

pound

Beef

(Top Round Steak or similar)

3

tablespoons

Butter

2

cups

sliced, fresh Mushrooms

1/4

cup

Flour

1/2

teaspoon

Salt

1/4

cup

Sherry

(plus extra, as needed during cooking)

2

heaping tablespoons

Diced Pimientos, drained

1/2

cup

Sour Cream

4

Sandwich or Hamburger Buns
Instructions
Slice the Beef against the grain into 2-inch to 3-inch thin strips.

Melt Butter in a skillet over medium heat (Note: use a skillet or saute pan that has a tight fitting lid).

Add the sliced Mushrooms to the pan and saute until lightly browned. Remove Mushrooms into bowl and set aside, leaving remaining Butter in the pan.

In a medium bowl, combine the Flour and Salt. Roll the Beef strips in the Flour mixture to completely coat.

Add the flour-coated Beef to the remaining Butter in the pan and brown over medium heat.

Turn down heat to low, pour Sherry over meat in pan and cover tightly with lid. Turn your heat very low to gently simmer until very tender - at least one hour, we like two hours plus. (Note: check occasionally to make sure there is still liquid, and add more Sherry if needed.)

Mix in the sauteed Mushrooms, Pimientos, and Sour Cream. Heat thoroughly.

While your Stroganoff continues to heat, warm your Sandwich Buns (we like to wrap the Buns in foil and warm up in a 250 degree oven). If you are using a softer type of bun (such as a regular Hamburger Bun), toast the buns on the cut sides before warming.

Spoon the Stroganoff over the Bun bottoms and place Bun tops on top of the meat. Serve and enjoy!